We have explored all the main specs of both brands and answered the critical questions for anyone considering watches from IWC or Omega.
OMEGA VS IWC: Which is The Best?
Questions about Omega or IWC watches are frequently asked. It could be related to the prestigiousness of these two brands; 
also associated with water resistance, people are curious about which brand retains a higher resale value. Is IWC a luxury watch brand? yes, it surely is. So is Omega actually, a luxury with lower cost when compared to IWC?
In this article you will get a good some basic and more detailed information on how these two brands measure up against each other from several essential specs.
Similarities
Both watchmakers are about the same age and well known brands in the watchmaking industry

Both are innovative brands that have contributed much to the art of watchmaking

Both brands have some iconic watches that watch collectors highly praise, we will examine those below

Both have a massive selection of designs.
Iconic Watches
OMEGA
The Omega Speedmaster Professional (1957) was the first wristwatch to be on the lunar surface in the original Apollo missions. It was also instrumental in saving the crew members of the Apollo 13 mission. Other notable watches from Omega are the Seamaster watches used in all 007 films since GoldenEye featuring the British actor Pierce Brosnan.
IWC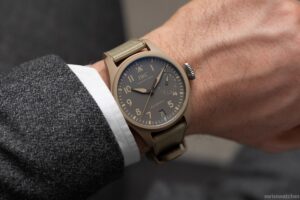 One of the first steel watches ever made was the IWC Ingenieur in 1976 and was designed by Gerald Genta. Before that, all parts were made of precious metals. Another iconic IWC watch is the Portuguese, which has since been renamed the Portuguese. In the 1930s a group of merchant marines traveled from Portugal to the IWC factory, asking them for accurate wristwatches.
Brand Prestige
OMEGA
Some of the specs that make Omega unique:
Entry-level watches start at a list price of around $2400

Omega Speedmaster was 

The first watch on the Moon

Official James Bond Watches (worn on the wrist of Secret Agent 007 since the film GoldenEye) were 

Omega Seamasters.

 Some special editions are collectibles and have a 007 motif on the dial.

Co-Axial Escapements have become synonymous with Omega ever since Omega bought the patent from British watchmaker George Daniels. They have been slowly making them a standard component in all their watches. They have been phasing out the older non-Co-Axial movement to make room for the calibers with the new higher-quality escapement.

Historically there have been many, but in this day and age, noteworthy designs include the Seamaster Diver 300m, Planet Ocean, Aqua Terra, Speedmaster Chronograph, De Ville, and 

Constellation Globemaster

.
IWC
Some of the specs that make IWC watches unique:
Entry-level watches start at a list price of around $3950

In 1993 IWC Schaffhausen marked its 125th anniversary with its most complicated mechanical wristwatch. It had quite a few complications, including a tourbillon, minute repeater, split-seconds, and perpetual calendar. It was called "II Destriero Scafusia" which translates to "The Workhorse of Schaffhausen".

Some of their watches, such as the Mark XII run on JLC-based movements, another member of the Richmont Group. The IWC Ingenier designed by Gerald Genta was one of the first steel watches. IWC uses in-house movements in many of its watches.

Noteworthy designs include the Da Vinci, Big Pilot, Vintage, Portugieser Perpetual Calendar, and the Ingenieur collections. Another popular limited edition is the 

Pilot's Chronograph, Known as the IWC "Le Petit Prince"

.
Resale Value comparison
The resale value between the two,  It is hard to affirm in a broad statement like IWC and Omega are similar matched when it comes to resale value. In your search, you will frequently find models such as limited editions that are more likely to fetch back a higher percentage of the initial price. Undoubtedly, the resell value would depend on the model of the watch and the condition of the watch, when and where you had to give it in for service, and if it comes with all original documents and box.
Who makes better watches, Omega or IWC?
Both brands make excellent watches and are top tier in terms of innovation and know-how. Many collectors and user share the opinion that Omega has an advantage (as a brand) compared to IWC, statistics show that Omega is, a more internationally recognized watch brand, in terms of international brand recall, it can be due to Olympic games exposure.
in terms of cutting-edge watchmaking, IWC is surely the dominant one, recalling the early 90's make the most complex wristwatch in the world, which lends some serious watchmaking street cred to the brand. 
Better Warranty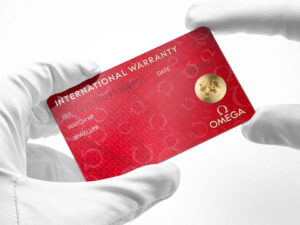 Typically, Omega is head and shoulders ahead of competitors here. It offers a 5-year warranty period, which is longer than any other luxury watchmaker.
However, in 2019,  IWC announced that they will be extending the warranty period from 2 years to 8 years . 
Any watch bought within two years would also be able to have this extended warranty period, this is a big vote of confidence and reassurance on quality.
For warranty, we'd have to say, it go to IWC. Knowing that, Omega still has a fantastic warranty period compared to most other brands.