A Rare and limited-edition Omega Seamaster was made exclusively available to members of the SAS.
We are talking about a special design Omega Seamaster Planet Ocean XL 45.5 mm model ref 2200.55.00 which is also known as a rock-solid and indestructible piece of art.
It is believed that only around 300 of these watches were ever made, and they were only available to members of the British well-known Special Forces SAS 22 Regiment.
Surely any top watch manufacturers would fight each other for a unique chance to be associated with top-tier armed forces and their prestige.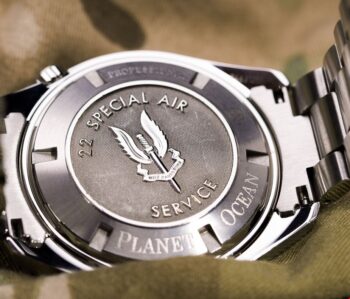 Omega knows that being able to put the SAS brand on your watch is something that very few competitors will ever be able to do. In order to accomplish this, they selected one of their finest models and designed it to be available, at a reasonable price to Special Forces from the SAS 22 regiment.
To make it even more personalized, each watch was inscribed with a number and initials corresponding to the owner. They also added design features particular to the 22nd regiment.
Read more about this Military Special Forces Limited Edition here.
This ultra-unique edition is engraved on the case back with the SAS winged dagger logo bearing the legendary motto, "He who dares". It's further engraved on the case side between the shoulders with the words, "Always a little further", which is a line from a passage of a poem that the 22nd regiment is instructed to memorize during selection.
Without a doubt, this limited edition proved to be a success, it's estimated that around 300 were ever produced and sold. A repercussion clause was added to the initial purchase to avoid those just looking to profit from the offer, only one watch per individual was allowed, and nobody would not be able to purchase another one at any stage.
Needless to say, the watches are highly sought-after and rarely pop up at auction.
An Omega Seamaster Planet Ocean XL 45.5 mm model ref. 2200.50.00 was recently sold in an auction in the UK for a full price of £15,312, far surpassing its auction estimate of £5,000 – £7,000.