TUDOR VS OMEGA
Even in the digital age of technology, the luxury watch market filled with analog watches is one of the world's most competitive markets. With brands like Rolex, Omega, Tudor, and Tag Heuer, there are multiple watches to choose from in every price range and every category. One of the reasons this industry is so competitive is its rivalries between different watch brands. In the world of luxury watchmaking, every brand is trying to capture the same market of customers, which allows the industry to innovate rapidly and bring new designs and new movement systems to the table. One such rivalry which has been a hot topic in the industry for a long time is Tudor and Omega. While both brands are top-tier and endorsed by various celebrities, the customers still compare watches launched by both brands to see which one comes out on top.
THE HISTORY OF TUDOR AND OMEGA:
When it comes to the timepiece industry, every luxury watch brand has garnered a reputation and has a legacy and rich history they have left behind. Tudor and Omega are no different, as they both have strong roots.
TUDOR
The foundation for Tudor watches as a luxury watchmaking brand was laid in 1926 by a Swiss watchmaker, Veuve de Philippe Hüther, which translates to "Widow of Philippe Hüther." The reason why this name was given to her was that she took over the company after her husband died. In 1926, Veuve de Philippe Hüther trademarked the name "The Tudor" and reached an agreement with Hans Wilsdorf for the exclusive rights of the name. By 1932, the first watches adorned with the Tudor insignia were launched in the Australian market. At that time, the rectangular shape and beveled edges of the watch were unique.
Since Hans Wilsdorf was involved in Tudor's establishment, multiple Tudor watches also bore Rolex's symbol and/or name to make the association of the two brands clear. Hans Wilsdorf is even reported to have said that he launched Tudor as a brand that offers the same standard of dependability that Rolex offers, only at a more modest price. The current Tudor watches result from the rebranding and refocusing they did in 2013 when they returned to the US market. While they still have Rolex's name attached to their watches, the modern Tudor watches take a lot of inspiration from classic Tudor watches and combine that with modern-day technology and materials.
OMEGA
Alongside being one of the world's most renowned brands, Omega is one of the most historically prominent luxury watch brands. Established in 1848, Omega has been producing watches for over 170 years and almost two centuries. For 30 years. Louis Brandt, the founder of Omega, maintained it as a family business and workshop, selling watches to customers from various countries. After his passing in 1979, his sons took over the company and saw just how promising their dad's work was. Soon after, they decided to expand the business and began manufacturing parts in-house. They were able to relocate the workshop to Bienne, the same region where the Omega headquarters is currently located.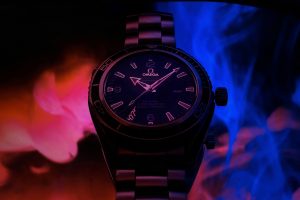 Sixty-three years after Omega developed its first mass-produced movement system, Labrador, Omega launched its most iconic watch collection, the Seamaster, in 1948. The 20th century proved to be extremely successful for the brand as Omega also got an endorsement from NASA after Wally Schirra wore a Speedmaster on the Sigma 7 mission, and Buzz Aldrin wore it to the moon. After this, the Speedmaster became the official chronograph for all space missions at NASA. Today, Omega is one of the biggest luxury watch companies, and the quality of their watches has only gotten better alongside their reputation.
WHICH WATCH IS MORE OF A HOUSEHOLD NAME?
Tudor vs Omega? In the watchmaking industry, being a household name suggests that a brand has a great following in the market, and one of the first names that come to mind when people think of luxury watches is that brand's name. While there can be more than one household name, naturally, a difference in popularity and brand awareness would put one brand over another.
When comparing Tudor and Omega, Omega would have to be considered as more of a household name in the industry. Not only is this because Omega has a richer history, but it is also because Omega is one of Rolex's competitors, and Rolex's name often overshadows Tudor's. While Tudor still has a significant following, Omega's popularity, legacy, and awards/accolades, such as winning the Snoopy Award in 1970, suggest that Omega is more of a household name.
WHICH WATCH HAS A BETTER WARRANTY POLICY?
One of the most important aspects of luxury watches is the warranty they offer. The policy's significance can be seen from the fact that there is even a European law that sets the minimum warranty for luxury watches at two years. While several watchmaking companies meet the minimum, both Tudor and Omega go above and beyond in this regard. In 2018, Tudor and Omega entered the five-year club as they started offering five-year warranties on all of their new watches. In that regard, there is no disparity between the two brands.
TUDOR OR OMEGA: WHO HAS MORE COLLECTIBLE PIECES?
Tudor vs Omega? A luxury timepiece brand cannot be considered exclusive if its watches' cannot function as collectible items. For watch enthusiasts and collectors, the luxury watch industry is a gold mine, and only a few brands act as the gold in that mine. Both Tudor and Omega are brands endorsed by a variety of A-list celebrities. The two most popular collections of these brands that have gained popularity even amongst the elites are the Seamaster and Black Bay collection. While the Seamaster is an essential item to complete Agent 007 James Bond's attire, Black Bay fans include popular celebrities like David Beckham and Will Smith. It is a close call when it comes to celebrity endorsements, but Omega retains its value better than Tudor. While Rolex has the industry in the bag when it comes to value retention, Tudor doesn't get nearly the same treatment. Not only do Omega watches have a richer history, such as traveling to the moon, but Omega is also generally a more prominent and more popular brand. Since it is a more popular brand, more of Omega's watches retain their value, which means more of their watches serve as collectibles later on.
WHICH WATCHES HAVE A SUPERIOR DESIGN?
While this category is very subjective, one can make some objective observations. Let's start by comparing the two most popular collections of the brands, Black Bay and Seamaster. The Black Bay collection by Tudor features watches that are 41 mm in size and have a vintage approach to them. They have a satin finish on the lugs and have polished sides alongside large winding crowns.
Tudor vs Omega? On the other hand, Omega's Seamaster watches are comparatively bigger with a 42 mm case diameter, which means they are best for medium to large-sized wrists. Simultaneously, they are available in a variety of builds ranging from steel and titanium to gold. Although their design approach is a classic one, the watches have been given a modern finish with clean lines and neutral tones.
Designs put forth by both brands are stunning, but when looking at them objectively, Omega offers more variety and choices for customers. In that regard, Omega would take the cake and come out on top in this comparison.
WHICH WATCHES HAVE BETTER SPECIFICATIONS?
Specifications or inner-workings are a category where Omega would even give Rolex a tough competition, let alone Tudor. Omega is one of the only watches that went to the moon and withstood rigorous NASA testing, which no other watch has done. Simultaneously, the Caliber 2500 movement system used in the Seamaster collection post-2015, for instance, is both METAS and COSC certified. It also offers a 60-hour power reserve alongside functions such as a coaxial escapement, which requires no lubrication.
While the Caliber MT5602 by Black Bay on the opposite end offers a 70-hour power reserve, it only has a COSC certification and not a METAS one. Side by side, this is the first movement system they made in-house in 2015, while Omega has been making its movement systems for years. Whether it be the experience in designing specifications for watches or the efficiency of those specifications, Omega edges out Tudor in this regard as well.
WHO WINS?
Tudor vs Omega? Conclusively, while Tudor is by no means a low-tier brand, it simply has not reached Omega's level yet. While Omega competes with the Patek Phillipe and Rolex brands, Tudor hasn't entered that league of luxury watches. Whether it be popularity, design, or what's under the hood, Omega beats Tudor by a long margin in some categories and close calls in others.